Contact Information

Austin Flyboard LLC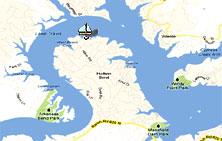 Feel free to contact us with any questions or for sales and training.
5931 Hiline Rd (on Lake Travis)
Austin, TX 78734

Telephone: +1 512 476 BOAT(2628)
E-mail: info@AustinFlyboardLLC.com
Our Location
South Shore Marina
Austin Flyboard, LLC operates from South Shore Marina on Lake Travis at 5931 Hiline Road near Carlos-N-Charles resturant. Lake Travis is an easy 30 minute drive west from downtown Austin toward Lakeway and Mansfield Dam. From FM 620 South, turn on Hudson Bend Road and following the signs toward Emerald Point Marina and Carlos-N-Charlies. You will see the gate for South Shore Marina on the right before reaching Ericsen Marine's boat yard. Please call in advance to get a temporary gate code to gain access to the property.
South Shore Marina is located near lake mile marker 8 on the south side of Lake Travis. It is opposite North Shore Marina and almost directly across from Devils Cove. Guest parking can be arranged for smaller boats but parking is not available for larger vessels (greater than 30 feet). Please call in advance to arrange docking if you plan to visit by water.